New IEC Academy Platform for online learning available
17.12.2020
Scope
Expanding our use of online learning will allow for experts to learn about more IEC related topics at their own pace, at anytime and anywhere. This will enable experts to contribute to increasing the quality and speed of standardization and conformity assessment processes.
Two initial courses
Feedback from our previous training workshops have shown that there is a high need for an initial training in standardization for newly appointed experts as well as a very detailed training course for convenors and project leaders.
New standardization expert: available for all IEC experts.
IEC Convenor and Project Leader: strongly recommended for all current and aspiring convenors and project leaders.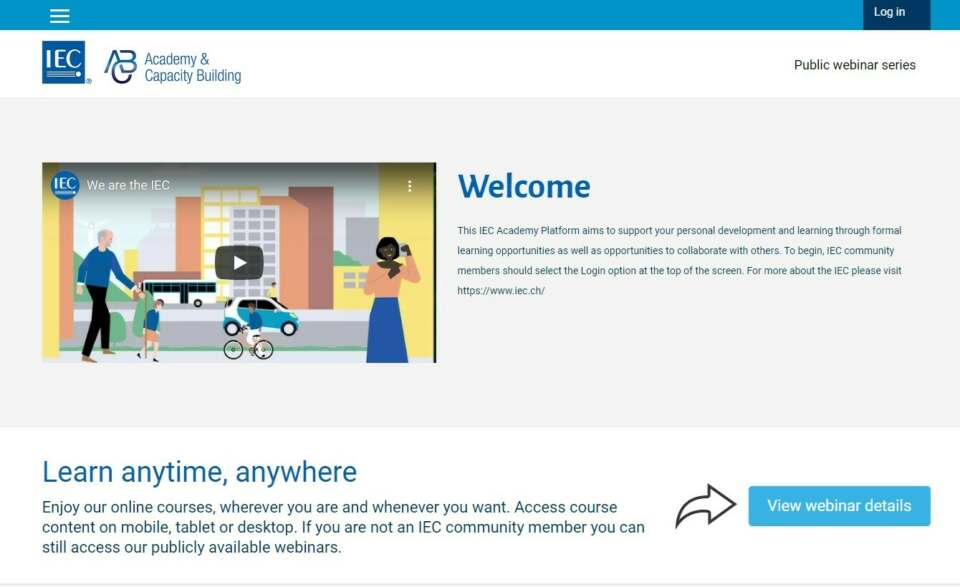 Advantage for participants
The courses provide in-depth information in one place. An exam can be taken and a confirmation of participation can be directly printed afterwards or stored as a PDF.
Advantage for Technical Committees
New experts will be able to contribute faster and more efficiently to ongoing projects. All convenors and project leaders can have a consistent training and the same level of information available.
Advantage for National Committees
All IEC experts from the same country can be trained using the platform. The NC Administrator will be able to see, in the Expert Management System (EMS), who has started and finished the training and can obtain a detailed overview of the level of training of the experts (EMS functionality under development; reports are currently available from the IEC Academy team).
Agile development
The IEC Academy Platform is developed in an agile way and tailored to your needs and use. A reference group has been created and all NC Secretaries have been asked to assign members to this group to enhance the use and features of the platform.

Actions for National Committees
Please promote the courses with all IEC experts, convenors and project leaders in your country. Our experience shows that the better NCs promote the usage, the more persons will attend the course.
Actions for Technical Committees
Please promote the use of the platform among your experts, convenors and project leaders, and let us know if you have any suggestions for improving the course and ensuring it fulfils the training needs of your committee.
Webinar
A webinar is scheduled on 14 January 2021 at 14:00 CET for those wishing to see the platform in use and for further information. Please register here. The webinar will be recorded and made available on the IEC Academy dedicated web page: www.iec.ch/academy/webinars.
More courses
We are now in the process of creating online learning courses for all IEC areas of activity such as standardization, conformity assessment as well as for the Affiliate Country Programme and the Young Professionals Programme.
Please contact the IEC Academy & Capacity Building team at IEC Central Office via academy@iec.ch if you have any questions, feedback or comments.